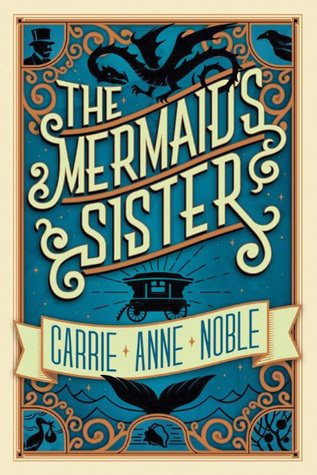 title & author: the mermaid's sister by carrie anne noble
published by skyspape on march 1st, 2015
genres: historical fiction, fantasy, romance
pages: 236
format: kindle edition


buy the book • goodreads
there is no cure for being who you truly are…
in a cottage high atop llanfair mountain, sixteen-year-old clara lives with her sister, maren, and guardian auntie. by day, they gather herbs for auntie's healing potions. by night, auntie spins tales of faraway lands and wicked fairies. clara's favorite story tells of three orphan infants—clara, who was brought to auntie by a stork; maren, who arrived in a seashell; and their best friend, o'neill, who was found beneath an apple tree.
one day, clara discovers shimmering scales just beneath her sister's skin. she realizes that maren is becoming a mermaid—and knows that no mermaid can survive on land. desperate to save her, clara and o'neill place the mermaid-girl in their gypsy wagon and set out for the sea. but no road is straight, and the trio encounters trouble around every bend. ensnared by an evil troupe of traveling performers, clara and o'neill must find a way to save themselves and the ever-weakening mermaid.
and always, in the back of her mind, clara wonders, if my sister is a mermaid, then what am i?
"i step around the curtain. inside her jar, maren floats serenely, fast asleep. she looks no smaller than the last time i saw her, and in no worse health. but the inch-deep layer of pearls on the bottom of the jar testifies to her sadness. my salt water tears fall without a sound, and without increasing the wealth of the world."
the mermaid's sister has the quiet setting of a serene mountain in the 1870s and is just as magical as the stories that aunt verity, half fairy and a master healer, and her husband scarff tell our main character, clara, her sister maren, and their friend o'neill.
while this book's pace was a little on the slow side, it wasn't boring by any means. i would call it more quiet as it told the story of clara's sister becoming a mermaid and her devotion to her sister as she tried to take her back to the ocean. it's a sweet, magical fairytale with mermaids, dragons, and fairies.
when maren turned 16, she started growing scales and slowly began her transformation into a mermaid. the girl's aunt told them the story of where they came from, that maren was left on the doorstep in a seashell and that she always expected that she would become a mermaid when she grew up, that clara was left by the stork, and that o'neill, who lives with their aunt's husband and is like a brother to them (who is in love with maren, clara thinks, and clara is in love with) was found under an apple tree.
the story follows their journey to return maren to the ocean where she belongs and will be happy, along with their stop as they're kept by a sick family sideshow and their escape from being forced to perform each night.
while there wasn't a major twist or shock at the end, it was still an engaging story and clara was an admirable and adorable heroine, her dedication to saving her sister and taking her to where she belonged and would be safe and happy was sweet and this book would definitely be loved by anyone who wants a quick, easy to read ya fantasy.